Peter Mollo
President, Crown Products
Yonkers, NY

Peter Mollo, President of Crown Products Co., has over 25 years of experience in the wholesale packaging distribution industry. Peter was appointed President in 1999, and has been instrumental in growing the 100 year old packaging supply company in an ever changing market place. In 2000 under Peter's guidance Crown Products expanded into the janitorial supplies business and founded Crown Janitorial.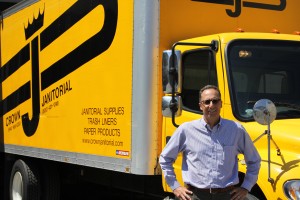 Peter graduated from Northeastern University. He is an active member of the New York City Chapter of the Entrepreneur's Organization and serves on the Packaging Steering Committee of AFFLINK, a leading $3 billion sales and marketing organization.
In addition to Peter's entrepreneurial spirit he has also been an active participant, founder, and board member on many nonprofit and community organizations including CLUSTER, where he has served as a Board member and on the Event Committee. He is the founder of Save a Life Recycling, which is a community based recycling project for people with disabilities. He also served on the Board of Yonkers Rehab Center and Future Possibilities.
Peter lives in Irvington, NY with his wife Stephanie, sons Ryder & Hudson, and daughter August.